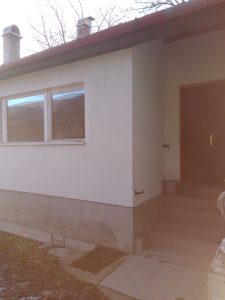 For the renovation and modernization of the property (accessibility, internal renovation, etc.) of the shelter house, what an anonymous donator offered, we ask for money and building material donations: external and internal isolation materials, covering materials (tiles), paint, bathroom equipment, external and internal doors and windows, etc.
The property offered: 1 kitchen + 2 rooms and a bathroom to be converted for the disabled.
Based on the calculations, the cost of the renovation is 4500 USD.
Our shelter program is available for people with multiple disadvantages, or parents who educate their children alone, especially those with disabilities and people who are struggling with work and housing problems (auctioning, eviction, tragically changed living conditions).
Please help us if you can support our shelter program!
Even the smallest offer is important to us as you can save lives!
We accept Cryptocurrencies and Paypal donations! Please DONATE NOW!
Please indicate the name of the patronized person in a comment section of the transaction: Shelter Program
Please send to our email address: keresztutakalapitvany@gmail.com – your email address, transaction ID, and the patronized person name: Shelter Program so that we can send you a thank you letter and a return confirmation that the donation arrived.