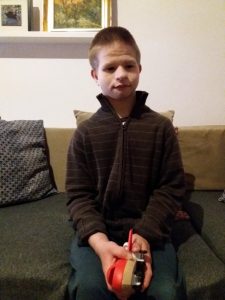 As a single parent and mother, I turn to you. My little son, Gergő Sz. Bertalan, 14 y.o. has Total Colon Hirschsprung's disease.
When he was 4 days old, he had life-saving surgery, and from then since March 2019, he had another 6 surgeries. Because of his illness, the colon of my son had been removed, and in December 2014 a final ileostomy was created on his abdomen. (Stoma stands for a 'mouth-like' hole, which is made surgically by the abdominal wall (ileostomy) and the containment of the small intestine is drained out through it.)
In March 2019 there was another surgery where they made another stoma.
My son needs stoma therapy tools, from which the insurance only supports the stoma bag, baseboard, and stoma paste. In many cases, the amount foreseen is not enough, and I need to replace the baseboard several times a day, as it is getting off as it soaks. The surplus quantity and the necessary skin protection agents, plus the stomatological tools should be financed from my own resources, which is a very high amount.
In addition to his congenital disease, Gergő has many other illnesses such as Autism, Epilepsy, Asthma, Mental Retardation, and is also disabled.
Any kind of offerings would be welcome, be it a tool or other support that I can spend for my son's health care and development as a single parent.
Please help us if you can support Sz. Gergő Bertalan!
Even the smallest offer is important to us as you can save lives!
We accept Cryptocurrencies and Paypal donations! Please DONATE NOW!
Please indicate the name of the patronized person in a comment section of the transaction: Sz. Gergő Bertalan
Please send to our email address: keresztutakalapitvany@gmail.com – your email address, transaction ID, and the patronized person name: Sz. Gergő Bertalan so that we can send you a thank you letter and a return confirmation that the donation arrived.