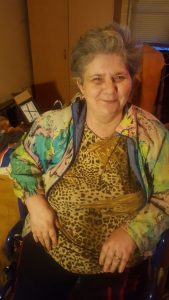 Hello. I am W. Beatrix and would like to ask for help.
On February 4, 2009, my feet were amputated, so I am disabled. I am a happy person and I think positively into my future. I try to see the good side of everything, and often I give spiritual support to my "healthy" friends. I know that God has plans with me and He will give me the opportunity to help those who are in worst conditions than myself.
Unfortunately, I am living in a sublease and I have little money for living. My disability pension is 270 $, from which 140 $ is deducted because I became the victim of my good faith, and now I am paying others depths. The remaining 130 $ goes to the sublease.
I get Disabled Support which is 80 $. From this, I pay 35 $ for my Internet Service Provider because this is the only way I can keep in touch with the outside world. I pay a care fee of 20 $ and all that is left is 25 $, which is not enough for the living. From my medicines, I can only buy a few and almost nothing is left for food. My medicine is 30 $ a month. Unfortunately, I am not eligible for public health care. I am not asking for the starry sky. If you could help me to buy my drugs and pay my sublease, more would be left for food. Of course, I accept any donation that could improve my living conditions.
I would be very grateful if you could support me 70 $ a month.
Please help us if you can support W.Beatrix!
Even the smallest offer is important to us as you can save lives!
We accept Cryptocurrencies and Paypal donations! Please DONATE NOW!
Please indicate the name of the patronized person in a comment section of the transaction: W.Beatrix
Please send to our email address: keresztutakalapitvany@gmail.com – your email address, transaction ID, and the patronized person name: W.Beatrix so that we can send you a thank you letter and a return confirmation that the donation arrived.